Posts for tag: pediatric dentistry
By South Lyon Dental Group, PLC
February 27, 2019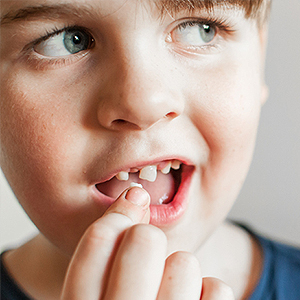 We all know that a child's baby teeth don't last forever. So if those little teeth develop problems, like severe decay, chips or cracks, it doesn't much matter—right? Wrong! National Children's Dental Health Month, observed in February, is the perfect occasion to remember why baby teeth need the same meticulous care as adult teeth:
Baby teeth perform the exact same jobs adult teeth do, only in little mouths. Without healthy teeth, a child can't eat comfortably, speak properly or smile with confidence. Given that the last baby tooth doesn't fall out until around age 12, children need to rely on these "temporary" teeth for a long time!
While there often are no symptoms of early tooth decay, badly decayed baby teeth can become painful—and the problem may get worse quickly. Untreated tooth decay can lead to suffering and expense that could have been avoided with relatively simply dental treatment.
Baby teeth help guide adult teeth into the right position. Each baby tooth helps hold the right amount of space open for the next tooth that will grow in. When a baby tooth is lost before the permanent replacement is ready to grow in, orthodontic problems can result.
As you can see, good dental health has a big impact on a child's quality of life and health—in both the present and the future. That's why it's important to treat childhood dental disease and injuries promptly and properly. Regular dental exams are the best way to keep on top of your child's dental health. If a cavity is discovered at a routine exam, prompt treatment can keep the decay from spreading to the root canals.
If your child plays sports, ask us about a custom-made mouthguard. This small device can protect your child's teeth from serious injury.  And if a baby tooth does get knocked out, let us know. It may be best to fit your child with a very small dental device called a space maintainer, which will hold that empty space open until the permanent tooth beneath it grows in.
If you would like more information about children's dental health, please contact us or schedule an appointment a consultation. You can also learn more by reading the Dear Doctor magazine article "Importance of Baby Teeth."
By South Lyon Dental Group, PLC
August 21, 2018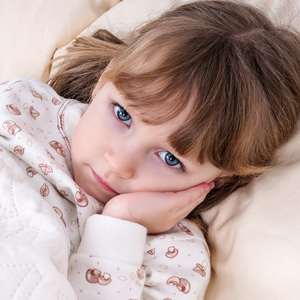 When your child says they have a toothache, should you see your dentist? In most cases, the answer is yes.
And for good reason: their "toothache" could be a sign of a serious condition like tooth decay or a localized area of infection called an abscess, which could adversely affect their long-term dental health. The best way to know for sure –and to know what treatment will be necessary—is through a dental exam.
So, how quickly should you make the appointment? You can usually wait until morning if the pain has persisted for a day or through the night—most toothaches don't constitute an emergency. One exception, though, is if the child has accompanying fever or facial swelling: in those cases you should call your dentist immediately or, if unavailable, visit an emergency room.
In the meantime, you can do a little detective work to share with the dentist at the appointment. Ask your child exactly where in their mouth they feel the pain and if they remember when it started. Look at that part of the mouth—you may be able to see brown spots on the teeth or obvious cavities indicative of decay, or reddened, swollen gums caused by an abscess. Also ask them if they remember getting hit in the mouth, which may mean their pain is the result of trauma and not disease.
You can also look for one other possible cause: a piece of candy, popcorn or other hard object wedged between the teeth putting painful pressure on the gums. Try gently flossing the teeth to see if anything dislodges. If so, the pain may alleviate quickly if the wedged object was the cause.
Speaking of pain, you can try to ease it before the dental appointment with ibuprofen or acetaminophen in appropriate doses for the child's age. A chilled cloth or ice pack (no direct ice on skin) applied to the outside of the jaw may also help.
Seeing the dentist for any tooth pain is always a good idea. By paying prompt attention to this particular "call for help" from the body could stop a painful situation from getting worse.
If you would like more information on dental care for children, please contact us or schedule an appointment for a consultation. You can also learn more about this topic by reading the Dear Doctor magazine article "A Child's Toothache: Have a Dental Exam to Figure out the Real Cause."
By South Lyon Dental Group, PLC
February 03, 2018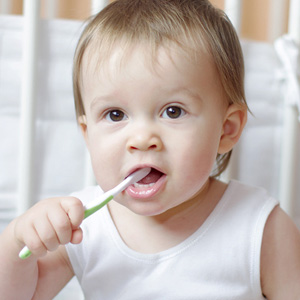 From the moment your child's first tooth appears, usually between six and nine months, you need to be concerned about Early Childhood Caries (ECC). This particular form of tooth decay can have a devastating effect on primary (baby) teeth and lead to their premature demise. Losing one before its time could adversely affect how the future permanent tooth comes in.
You can help prevent ECC with daily brushing and cleaning, regular dental visits (beginning around their first birthday) and limiting the sugar they eat. Here are 3 more things to consider for boosting your prevention efforts.
Breastfeeding. Pediatricians generally recommend breastfeeding if possible for a baby's overall health, including dental development. And although breast milk contains fermentable carbohydrates that boost bacterial growth, it no more promotes tooth decay than similar foods and beverages. That said, though, once the child begins to eat and drink other foods and beverages, the combination of sugars in them and breast milk could increase the bacteria that causes ECC. This is another good reason to wean the child from breast milk as they begin to eat more solid foods.
Bottles and pacifiers. It's quite common for parents and caregivers to soothe a fussing or crying baby with a bottle filled with formula, milk or juice for sipping, or even a pacifier dipped in jam, sugar or some form of sweetener. But these practices can create an environment that promotes high acid production from bacteria feeding on the sugars. Instead, avoid giving them a "prop-up" bottle filled with liquids containing sugar and try to limit bottle use to mealtimes. And provide them pacifiers without sugary additives if you use them.
Medicines. Children with chronic illnesses or other needs often take medication containing sugar or with antihistamines that reduce the flow of acid-neutralizing saliva. If the medications can't be altered, then it's extra important for you to practice diligent, daily hygiene to reduce the effect of higher mouth acid.
If you would like more information on dental disease prevention in babies and young children, please contact us or schedule an appointment for a consultation. You can also learn more about this topic by reading the Dear Doctor magazine article "Age One Dental Visit: Why it's Important for Your Baby."